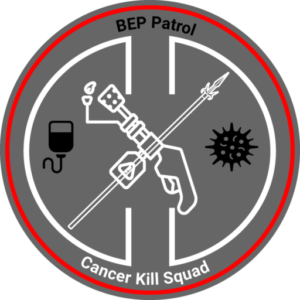 Cancer Kill Squad chronicles the patient experience of undergoing diagnosis, chemotherapy, and recovery of the author for testicular cancer. It's a work-in-progress and combines violent imagery of war and grind house with scientific understanding and medical knowledge.
The ultimate goal of Cancer Kill Squad is to facilitate understanding of the cancer patient experience and treatment journey for others to understand and learn from. Understanding the cancer adventure and being empowered to understand your diagnosis and tell your own story is an important part of the entire cancer experience.
Cancer Kill Squad is a metastasized from the journey of the author, it abstracts ideas of war and cancer treatment into a narrative of the patient journey from diagnosis to treatment and recovery.